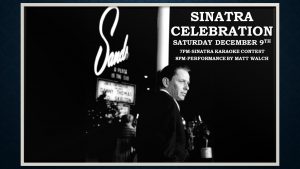 Sinatra karaoke contest 7pm-8pm
Matt Walch performance 8pm-9pm
We had a blast putting on a birthday party for Sinatra last year so we're doing it again.
Singer Matt Walsh is coming back again this year to perform standards from Sinatra, Dean Martin, Bobby Darin and Elvis.
If you want to listen to his incredible talent go to http://www.singermattwalch.com/ and see for your self.
There will be no cover charge for this event and we will have food specials and some other surprises in store so stay tuned!
We will be holding a Sinatra Karaoke contest as part of our Sinatra Celebration! You can choose your favorite Sinatra, Dean Martin, Elvis Presley, etc. 60's Vegas era song to perform.
We will be giving out cash prizes! $100 for first place, $50 for second place and $25 for third place!
Give us a call and sign up. We will need your name, phone number and what song you want to perform. Call us at 231-301-8226!
We will have our full menu available on Saturday but we will feature a few specials for the Sinatra Celebration.
Here they are:
-Salad: Baby green salad with basil, mint, shaved strawberries and a strawberry vinaigrette.
-Appetizer: Roasted artichoke bruschetta topped with mozzarella and roasted cherry tomatoes.
-Entree: Lasagna Bolognese
-Dessert: Tiramisu