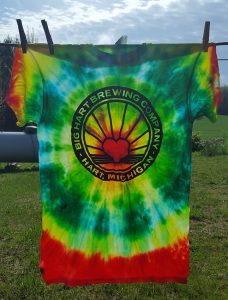 Join us after the Asparagus Festival Parade for our Big Hart Tie Dye Party!
You can purchase a T-shirt for $14 and we will have them preset for you in four different patterns. We will provide you with the dye and you can create your very own Big Hart Tie Dye!
The Patterns are:
-The Heart
-The Spiral
-The Crinkle
-The Sun Burst
Don't worry if you have never tie dyed a shirt before, our staff will be on hand to help you out and we will send you home with instructions on how to take care of your shirt.
If you stop by the brewery you can check out the tie dyes we made for ourselves and we all had a blast doing it!
We will have sizes from small to XXL but we have a limited amount so come by as soon as you can!